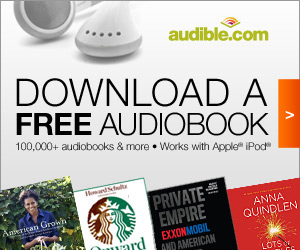 FREE AUDIO BOOKS!!
 AWW IT IS THE HOLIDAY SEASON AND WHAT BETTER THING TO DO THEN SIT AROUND AND READ SOME CHRISTMAS CLASSIC TO YOUR FAMILY! HOW BUT BETTER YET? LISTEN TO IT INSTEAD? THAT'S RIGHT AUDIBLE.COM IS BACK AND THEY ARE OFFERING THEIR FREE DOWNLOAD AGAIN! I THINK BEKKI AND HER GIRLS WILL LOVE SITTING TOGETHER BEFORE BED LISTENING TO THE GREAT DR. SEUSS CLASSIC
HOW THE GRINCH STOLE CHRISTMAS! 
YOU DON'T WANT CHRISTMAS STORIES? THAT IS OK TOO THERE ARE THOUSANDS OF BOOKS TO CHOOSE FROM! AND THE BEST PART THE FIRST ONE IS FREE!
NOW WHEN YOU SIGN UP IT WILL GIVE YOU THE FIRST 30 DAYS FREE BUT YOU CAN CANCEL YOUR MEMBERSHIP AT ANY TIME! AND GUESS WHAT NO CALLING ANYONE EITHER! AFTER YOU GET YOUR FREE DOWNLOAD YOU CAN JUST HIT THE CANCEL ACCOUNT BUTTON AND THAT IS IT! NO CALLING NO ARGUING JUST CLICK AND CANCEL! DON'T MISS OUT THIS IS ONLY HERE FOR A LIMITED TIME!