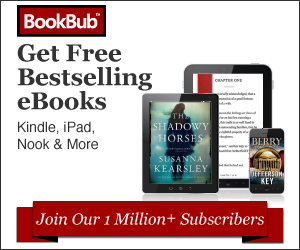 Get FREE Bestselling E-Books from 
BookBub.
BookBub's free daily email notifies you about deep discounts on acclaimed and bestselling eBooks. You choose the types you'd like to get notified about — with categories ranging from romance to mysteries to cookbooks — and BookBub sends great deals in those genres to your inbox. BookBub alerts you to fantastic limited-time offers that are available for Kindle, Nook, iPad, Google Play, and others. A team of experts makes sure that BookBub only features great deals on quality books that you'll love.
BookBub's goal is to delight you every day with the best deals on great eBooks. All deals meet the following criteria:
• Free or Deeply Discounted
— All books featured are either free or dramatically discounted, sometimes as much as 90% off their original price.
• Top Quality Books
— BookBub only features books that are bestsellers or written by bestselling authors and have received strong reviews from critics and readers.
• Limited-Time Offers
—BookBub generally features deals that are available for a limited time, so it's important to act quickly.
• Matching Your Interests
—BookBub's website lets you customize which types of books you like so your inbox doesn't get clogged with unwanted deals.