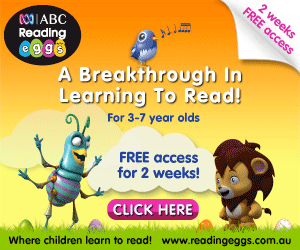 Do you have a child that is just starting to read or maybe they are struggling with reading and they need just a little help? You will want to make sure and sign up for a Reading Eggs FREE Trial! Hurry it is only available for a limited time
Reading Eggs makes learning fun for your little one by combining books with online reading games and activities. Your child can learn to read in just weeks, the program is recommended for children ages 3-13. This program is a great way to get them ahead of the game for the next school semester and will keep them on track this summer.
Go ahead and hop on over and sign up today! No Credit Card Required on this one!! You will have access to the program for the next 2 weeks and you can decide for yourself if you want to continue with the program. Otherwise your child will have 2 full weeks to better their reading! What a great way to start the summer!!
Take advantage of the free trial and see why 91% of parents have seen a noticeable improvement in their child's reading skills.