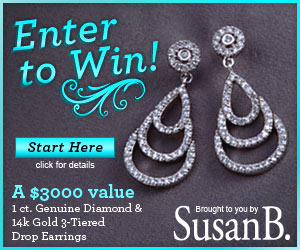 I found a great new giveaway for a pair of diamond earrings!!  The earrings have a stunning three-tiered drop design that sparkles with a carat of genuine white diamonds, all hand-set into 14-karat white gold, this $3,000 pair of earrings is enough to make anyone swoon.
They also come with a Certificate of Authenticity from the International Gemological Institute ­ so just in case you thought they were to good to be true.
Click here to get yourself entered!!