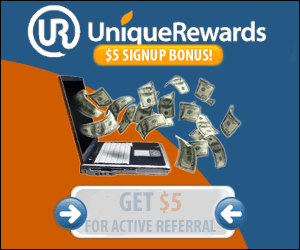 UniqueRewards.com, Inc., the internet marketing company, offers the best deals and internet services to its members. We reward our members for taking surveys, shopping online, entering contests, requesting free samples, social networking, etc.
Unique Rewards has very little negative feedback. We have tested the site and were paid on time. We feel it is a safe and paying site to use.
* 1 – An Established Site
Online and paying since 2007 . great achivement for any site.

* 2 – This site does have a forum.
Forums are great for communication between members and staff.
Members can post payment proofs, get support, and stay up to date
on changes made to the site.
* 3 – Automatic Upgrade
After your first cashout you will automatically be upgraded to golden, free of charge. "Gold Membership gives you an opportunity to get much higher commissions for offers or surveys completion and shopping. You will be earn 40% more!
For example, you'll receive $14.00 instead of $10.00 for a simple offer
No other program will pay you such great rewards! "
* 4 – Information Required
Like most GPT sites, you will be required to give your full name, address, date of birth,
and phone number to verify the offers you complete are accurate.
* 5 – High Minimum Cash out
This might scare some into not joining if you are someone that uses "bux" sites
or sites with low minimum cashouts. With a no direct limit it is to be expected
for the cashout to be a little higher than most. Might seem to be hard to reach,
however with the daily average earnings it doesn't really take that long to reach.
Especially with the $5 sign up bonus.