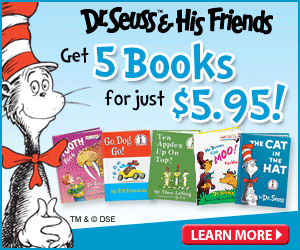 Here's a fun deal from EarlyMoments.com honoring the late and great Dr. Seuss!
Sign up for Dr. Seuss & His Friends book club and get five hard cover Dr. Seuss books a free backpack for just $5.95 shipped!
To get started visit Earlymoments.com. Signup is super quick and takes about a minute!
Dr. Seuss & His Friends is a monthly book club. Customers are automatically charged and sent additional books each month. To manage or cancel the account, call 1-800-353-3140 or log in online. There is no ongoing obligation.