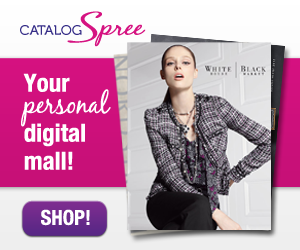 Have you signed up for Catalog Spree yet?? Catalog Spree is your digital mall. It is the online place where you can browse gorgeous catalogs, discover new brands, and share products you like. It brings the fun of window shopping online.
NOW THIS IS AWESOME!! I signed up just a little bit ago and  I received $50 in gift cards in my email. I have no idea how much longer they will be offering this for new sign ups so hurry!! (It did take a bit before it showed up in my email)
Click here and sign up now!! I have no idea how long they will be doing this so hurry!!